The Bonsai Junipers Guide…. Allow us to help on your Juniper adventures!
Hi there and welcome to the Bonsai Junipers Guide….


Thanks for visiting….



Like us, you have probably noticed that Bonsai Junipers look stunning. If you haven't seen one in the flesh (or the bark), watch the Karate Kid! Its the next best thing.....



Mr. Myagi's Juniper is a perfect specimen!



Not only are Junipers attractive, they are very adaptable bonsai subjects, and are suited to many different styles, including; Informal, Driftwood, Cascade, Twin and Triple Trunk, making it very appealing to the beginner.

Showing it's cascade style

The Juniper is a colourful species, sporting a choice of colours that range from the traditional green to blue-greens, and can include gold and silver highlights.
Junipers have two types of foliage; needle and non-needle foliage (scalelike). Species that display predominantly one or the other are typically used for Bonsai gardening. Some scale like species will revert temporarily to the needle-like juvenile foliage if heavily branch pruned or trunk pruned, or if shoots are heavily pinched.
The Juniper Bonsai is a long living species, some having grown for over 200 years. No surprise that it is a favourite in many bonsai enthusiasts' collections!
Junipers are relatively free of disease and insects, however, they can be affected by the red spider, and rust disease. To control mites and spiders, an insecticide can be used once per month.


Here is a list of Bonsai Junipers

The following are Scalelike and hardy on benches throughout Winter:
• Chinese Juniper (J. chinesis)
• Dahurian Juniper (J. davurica)
• Sargent's Juniper (J. sargentii)
• Virginia Juniper (J. virginiana)


The following require greenhouse Winter protection:

•Common juniper (J. communis)
• Hornibrook Juniper (J. communis)
• Japanese Needle Juniper (J. rigida)
• Drooping Juniper (J. recurva)
• Squamata Juniper (J. squamata)



The mighty Chinese Juniper
If you are a Bonsai beginner, we would suggest starting with either the Chinese Juniper or Sargent's Juniper (If available).
Both are hardy and easy to care for. They require basic care and are easy to prune.
Finally, you may notice large clumps of wood attached to the trunks of Juniper specimens. This extra wood is not usually a part of the tree, but is added to aid aesthetics, and from time to time, the growth of the tree. This style is commonly referred to as 'driftwood'.
Want to own this Juniper below? Just click the link to buy it!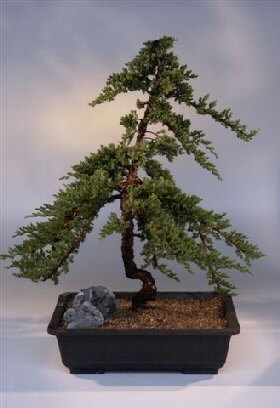 Leave Bonsai Junipers and head back to the Juniper Bonsai Guide!